According to Google's official data, the search for tungsten wedding bands related words on the Google search engine is over 100,000 per month. The United States, Canada, Australia, and the United Kingdom are the four countries with the hottest search for tungsten wedding bands.
Such a high search volume shows that tungsten wedding bands have a large market in the jewelry industry. The common processes of tungsten wedding bands are: electroplating, sandblasting, polishing, engraving, etching, slotting and sand drawing. Shenzhen OEM jewelry manufacturer YIBI will help you to understand the new choice of 2018 men's wedding ring-brushed tungsten wedding bands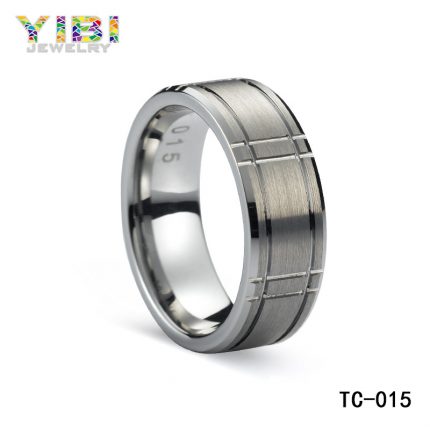 Process for brushed of brushed tungsten wedding Bands
Brushed is a kind of surface treatment process for metal jewelry, also can be called sweeping sand, sweeping nylon and so on. They are usually divided into straight wires and broken threads according to their surface effects. Straight wire, also known as hair thread, scrambled wire, also known as snowflake pattern, in metal pressure processing. Under the action of external forces to force the metal through the mold, the metal cross-sectional area is compressed, and to obtain the required cross-sectional area shape and size of the technical processing method called wire drawing process. Surface wire drawing processing is through grinding products in the workpiece table. A surface treatment method that forms lines and plays an ornamental effect. Because surface wire drawing can reflect the texture of metal materials, tungsten ring with sand drawing has been more and more popular.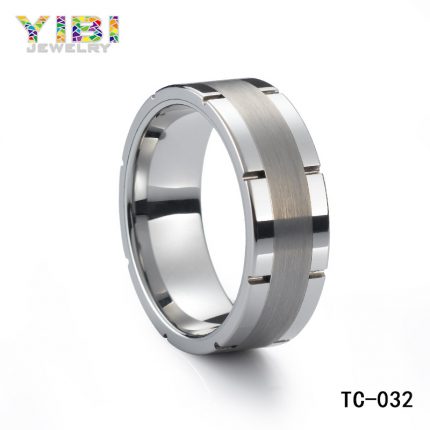 YIBI Jewelry: Brushed Tungsten Wedding Bands
As an experienced manufacturer of tungsten jewelry, YIBI Jewelry has more than 10 years of experience with their own manufacturing plants. It provides OEM services for many internationally renowned jewelry brands. The products which we produced for them are very popular among their customers.
This ring, TC-032, brushed tungsten wedding bands is a new classic tungsten carbide ring from YIBI Jewelry in 2018. It has polishing and grooving process. The high polishing on both sides makes the middle brushed surface more prominent. Masculine and fashionable. It's the tungsten wedding bands that men should look forward to.