Brushed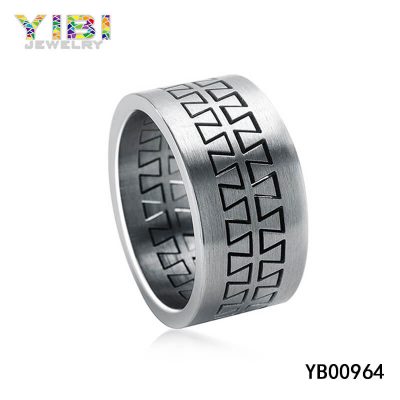 Brushed is a process by which fine metal stripes are formed by directional movement of diamond pressed on the surface of jewelry products. Our ring, YB00964, is made of 316L stainless steel jewelry by brushed. The fine stripes on the surface of the ring can reflect the metal texture of this 316L stainless steel jewelry.
Plating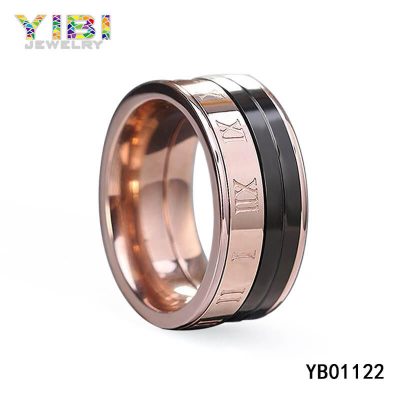 Plating is a kind of jewelry surface processing technology widely used in the stainless steel jewelry manufacturing industry. It is widely applied to the surface treatment of stainless steel jewelry. The color of the coating is rich. The common colors are: black, blue, gold and rose gold. The YB01122, 316l stainless steel jewelry ring is also plated with rose gold and black. Plating can not only change the color of the jewelry but also improve the brightness of the jewelry.
Etching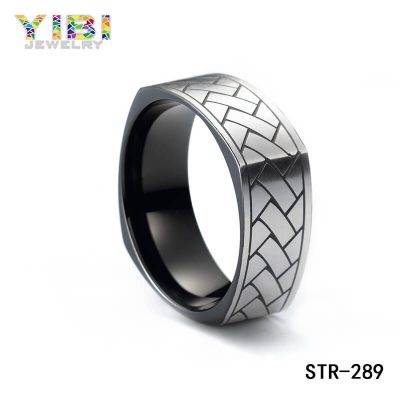 The etching process firstly coats the surface of the metal jewelry with an acid-resistant paint, and laser-laser engraves the texture or pattern (the grain or pattern reveals the metal part) on the jewelry products that has been coated with the anti-corrosion paint. The jewelry is placed in an acidic solution to corrode the grain or pattern, and the degree of grain or pattern corrosion is determined by controlling the corrosion time. The etching process is widely applied to the processing and fabrication of jewelry with special requirements on the surface style. For example, the STR-289 ring is an etching 316l stainless steel jewelry manufactured by process.
Stardust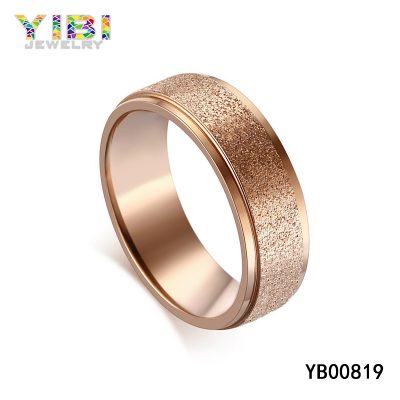 Stardust is a process of forming a matt effect on the surface of jewelry with quartz sand under the action of the high-pressure gas. In the stainless steel jewelry manufacturing industry, this process is often used in the manufacture of luxury stainless steel jewelry, such as our YB00819 ring. The luxurious Stardust 316l stainless steel jewelry made of electroplated rose gold made by sandblasting and electroplating, the sandblasting process makes the surface of this stainless steel ring unique and stylish.
Laser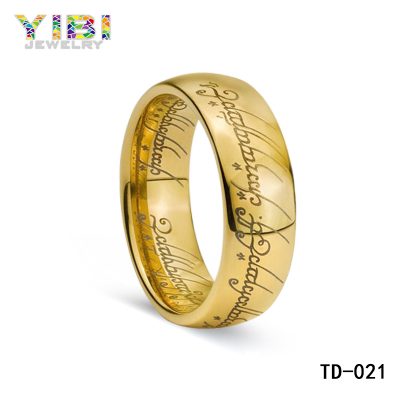 Laser, also known as laser processing, is a process that uses high-energy-intensive beams to illuminate the surface of metal jewelry to vaporize or change the surface of metal jewelry. The laser is often used for engraving of logos and patterns on jewelry surfaces. Such a ring of TD-021 is a 316l stainless steel jewelry produced by laser technology, and the note pattern on the ring is engraved by laser technology.
These five processes are commonly used in the production of 316l stainless steel jewelry, each process can add highlights to 316l stainless steel jewelry, we are a stainless steel jewelry manufacturer in China, providing these five kinds of process 316l stainless steel jewelry OEM and ODM service, welcome to consult and visit our stainless steel jewelry factory!