Amethyst is a kind of crystal. It contains psychedelic purple color due to the elements such as manganese, iron and titanium. It has various purple tones from light lilac to deep purple. In general, deep purple is more popular because it feels particularly mysterious. The thicker the color, the more expensive it is. The most precious amethyst even presents a thick purple reddish tone!

When we think about amethyst, its extraordinary color comes to mind. For February birthdays, that color is purple — a rich, sumptuous, radiant purple. A royal purple.
The ancient Romans used to be engaged in the rituals of cleaning sin and paying homage to the undead in February. Amethyst was symbolized as a taboo, preventing self-indulgence, keeping honesty and reason, often embedded in the rings of the bishops and priests.
As the birthstone of February, amethyst symbolizes honesty, kindness, broad-ranging popularity, peace and good fortune and peace of mind. At the same time, since "Valentine's Day" is in February, Amethyst has naturally become the preferred gift for lovers to exchange, and has become a token of love and a symbol of love and perseverance. In Europe and America, amethyst is a commemorative gem for its 20th birthday.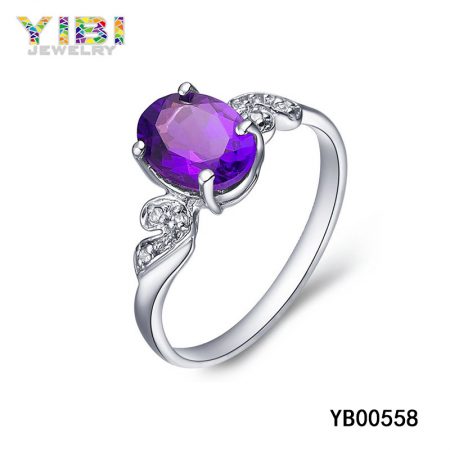 Amethyst is also a commemorative gem for the 17th anniversary of marriage. The reason is that the marital relationship of this period is more prone to cracks due to the heavy burden of life. Amethyst jewelry is given to remind the other party: Be especially vigilant about "the temptation of the devil"
The Passion of Purple
Most amethyst came to Europe all the way from Brazil. It was scarce, very expensive, and considered a precious stone. At times, it was even more valuable than diamonds. Then in 1799, large amethyst deposits were found in Russia's Ural Mountains, and amethyst's price declined. Still, only the wealthy could afford it.
Today, amethyst is plentiful and modestly priced. Yet, its allure remains whether featured alone or accented by a wide array of gems— everything from pink sapphire, emerald, and diamond to citrine, peridot, and morganite.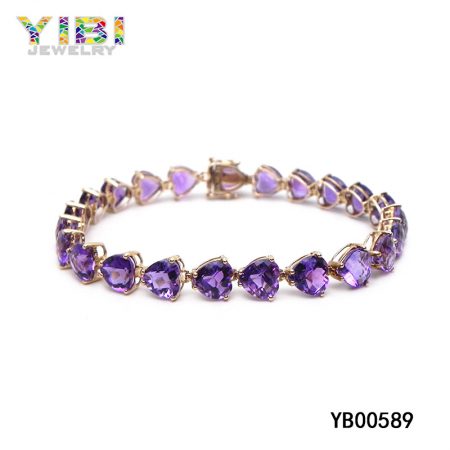 Purple is a combination of red and blue in different proportions to achieve different shades. Making purple required great skill and was a long, difficult, and costly process. The stunning result that yielded a wealth of shades was available only to those who could afford it: kings, nobles, priest and magistrates around the Mediterranean. Thus, amethyst uses date back to royalty's obsession with purple; it was the beginning of a beautiful relationship.
Today, purple is for everyone. YIBI OEM Jewelry Manufacturer offers a large assortment of genuine and imitation amethyst in a wide variety of shapes and sizes. You can find the perfect stone for the customer who appreciates everything that amethyst conveys— artistic expression, stunning sophistication, and free-spirited joyfulness.