The tungsten steel ring has a high brightness and is like a mirror. Polished to give a jewel-like color and shine. Hardness is second only to diamonds, hard and wear resistant. Its corrosion resistance is also very good. Does not change color, does not corrode, does not fade, is not easy to lead to allergies. Tungsten steel ring is deep and simple, after processing, it is easy to attract eyeballs. The types of four tungsten steels are described below.
Hammered Tungsten Carbide Bands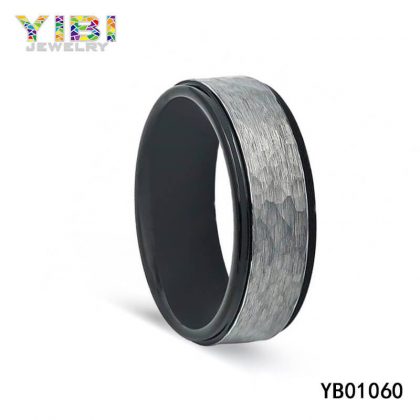 Hammered tungsten wedding rings are unique and eye-catching to whoever purchases the tungsten ring style. Hammered rings come in many ring widths and styles such as the popular dome shape, flat pipe cut design, a beveled edge and even a step-down edge. The finish of the ring is commonly polished so the integrity of the ring will stay intact through the hand hammering. Due to the hand hammering each ring is unique and as beautiful as the next. The Hammered rings are popular for those that want to make a bold fashion statement.
Satin Brushed Tungsten Wedding Bands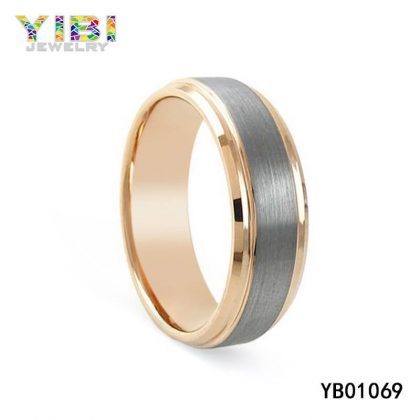 A satin brushed finish is a smooth finish that is matte in appearance. The finish has a soft brushed look and has a very limited reflection when light hits the ring. The Satin brush is ideal for those that want to wear a ring with it being a standout fashion piece. Satin brushed rings are popular for both men and women.
Sandstone Finishes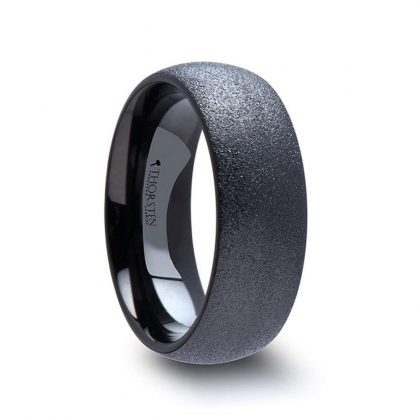 The sandstone finish is made to look like sandpaper however although the rough look it is completely smooth to touch. The Sandstone is a completely matte finish not reflecting light off of the surface. The sandstone is popular for those that want a more subdued look. Men particularly like the look of the sandstone finish due to it being more masculine.
Unique Florentine Finish
The Florentine finish is very similar to the finish of a sandstone ring where the rough to touch however it is not. The Florentine finish has brushed streaks that overlap one another giving a very unique look to the ring.